4 Reasons to Recommend Invisalign Over Alternative Braces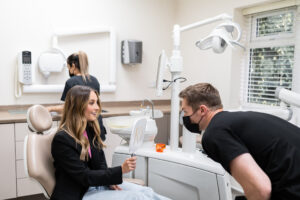 There has recently been a surge in the number of patients seeking Invisalign treatment, particularly over the past couple of years. It's entirely natural that many of us have sought to improve our appearances over the course of the pandemic. The unprecedented number of people able to start working from home or to spend time away from the office means many of us have, to some extent, been working in isolation. This has had a major impact on the dental industry, increasing the demand for orthodontic treatments. As patients have been looking to uplift their appearances before returning to normality, many have weighed up the pros and cons of opting for traditional metal braces vs. Invisalign.
While traditional metal braces are still entirely viable options – and are even tempting when we consider we have been working alone – Zoom is still a thing! We may have had some time to hide away amidst the pandemic, but now many are calling for those more discreet options such as Invisalign.
These increasingly popular solutions offer both discreet and manageable treatments for those wishing to straighten their teeth, and they are in high demand. At Ringway Dental, we are often inundated with questions from patients asking whether they should opt for traditional metal braces or modern Invisalign braces. While we are happy to answer any question that comes our way, we thought we'd compile our thoughts into one space so everyone can have a read.
We've put together this useful guide comparing Invisalign vs. traditional metal braces, with the hopes that we can help you determine which type of orthodontic treatment is best for your teeth and wellbeing.
Invisalign is Discreet, Almost Invisible
While it's fairly common that teenagers will wear braces, this doesn't absolve any of the insecurities that may be involved in doing so. Some will feel absolutely fine opting for traditional braces, while others may be a bit more self-conscious at that age. As an adult, too, you may be seeking a more discreet form of treatment that will straighten your teeth. Whether you are seeking braces for yourself or your child, Invisalign can be a suitable option for both life stages.
One of the main reasons patients request Invisalign is that it is a much more subtle option in comparison to traditional braces. Invisalign demonstrates their goal within the portmanteau that is their brand name; an almost invisible solution that works to gradually align the teeth. Compared to traditional metal braces, Invisalign is almost invisible. There are no metal wires obscuring the front of the teeth. In fact, it's difficult to notice someone is using Invisalign trays unless they tell you so themselves.
Brush, Floss and Eat as Normal
With alternative types of braces, one of the major complaints many patients have is that the complicated metalwork is very difficult to clean properly. With classic metal braces, it is difficult to maintain adequate oral hygiene routine. We're used to brushing our teeth without having to work around any complicated metal scaffolding that surrounds them. While you may feel that sensation in believing your teeth are clean once brushed, it's virtually impossible to properly clean your teeth if you opt for metal braces. Comparatively, Invisalign trays are more flexible. They are entirely removable and offer the chance to thoroughly cleanse the teeth and fixtures whenever you like.
Another problem many find with traditional braces is that they can't eat some foods without experiencing discomfort. There are also certain foods that those with traditional metal braces should avoid. These include:
Popcorn
Chewing gum
Hard foods or things such as ice
Chewy or sticky foods
Some Fruits
Sugary sweets
Foods or drinks that stain
If you choose Invisalign, you can quickly remove your aligner trays before you eat and replace them afterwards.
Invisalign Offers a Comfortable, Natural Fit
Invisalign technology has sparked a revolution within the world of orthodontics. Metal braces still exist and are still used, with great effect. Traditional braces can also be more effective than the more discreet options for those patients with more significant or complex misalignments. However, the days of having to rely on metal fixtures that can cut into our gums and cause extra pain are gone. Those with traditional braces also often express how they feel 'stuck' with them, uncomfortable and even unable to care for them properly.
With Invisalign, our patients have access to subtle teeth straightening solutions that work. They are considered much more comfortable than classic braces, as the thin plastic simply slides over your teeth. You don't have to get used to having metal wires in your mouth, which can also impact patients' speech and ability to chew. Invisalign trays are all bespoke-made for a snug fit on the wearer's own teeth, so it's a much more natural sensation. Invisalign aligner trays are also removable any time, anywhere. Take them out while you eat a meal, clean your teeth, or while speaking in an important meeting… Invisalign ensures you retain full control over your dental health and comfort.
Less Follow Up and Maintenance Required
Invisalign became increasingly popular over the course of the pandemic, as the treatment requires less follow-up than traditional metal braces do. This is an especially important factor to consider if you have a busy schedule! The frequency you need to go to have your trays switched will depend on your own personalised treatment plan.
Another reason Invisalign is now the go-to option is that dentists do not have to be involved in the removal of Invisalign trays. As you're able to remove them when you sleep, eat, and so on, you retain that level of autonomy and flexibility that you wouldn't otherwise have with traditional braces.
Note that it is recommended that you wear them as often as possible, only removing them to eat or drink. You should be sure to follow recommendations set by your own dentist to achieve the best results. Remember that your individual treatment plan will depend on how your dentist has carefully tailored your orthodontic treatment to your teeth.
Find Manchester Invisalign Dentists with Ringway Dental
If you are considering any type of braces, it's natural that you may have plenty of questions. Aligning the teeth is a long and steady process, so you want to make sure you're making the decision that's right for you. At Ringway Dental, we are committed to ensuring that each patient can make fully informed decisions regarding their dental care.
Making it easier for you to discuss your goals before you book an appointment with us, we offer free online dental consultations with our Smile Advisor – available via Zoom. This means we can provide your initial consultations online. You can then book an in-person appointment with our team, where we'll then be able to advise on the best treatment plan to suit your goals.
You can book in to see our Invisalign dentists directly, by calling our practice on 0161 437 2029. If you have any questions beforehand, you can also fill out our online contact form. We look forward to discussing the best treatment plan to help you achieve your desired smile!
Related Posts