TEETH WHITENING DENTIST MANCHESTER
Here at Ringway Dental, we are proud to offer a number of cosmetic, restorative and preventative dental treatments. One of our most popular treatments at our practice in Manchester is professional teeth whitening. Our teeth whitening treatments help our patients smile brighter and whiter with confidence. We guarantee impressive and high-quality results, tailoring our teeth whitening solutions to each individual patient and their needs. There is something for everyone when you visit our Manchester practice.
What Is Professional Teeth Whitening?
Teeth whitening is a minimally invasive procedure and one of the most popular cosmetic dental treatments available. It is rewarding and designed to help whiten your natural teeth. It simply involves the application of a whitening agent, which helps to break down the discoloured molecules in the teeth. Here at Ringway Dental, our dentists provide safe and effective teeth whitening treatments to all of our patients in Manchester. Teeth whitening leaves you with a captivating smile. With professional teeth whitening, there are no health risks when you seek treatment at a practice as reliable as ours.
Teeth whitening is a fast and effective way to improve your smile. With our professional teeth whitening treatments, everybody you meet will be mesmerised by your new whiter and brighter smile. Our experienced dentists know that teeth can become discoloured for a wide range of reasons, such as age and lifestyle factors like drinking and smoking. Seeing your teeth discolour over time can knock your confidence and leave you feeling embarrassed of your smile, perhaps even stopping you from smiling for photos. Our team provides no judgement and will leave you impressed with your results every single time.
The Different Types of Teeth Whitening
Teeth whitening should only be carried out by a professional to ensure that it is safe and no damage is made to your health and teeth. While there are other ways to obtain teeth whitening treatments, such as online or from beauty salons, only registered dental practices can provide you with a safe and effective way to whiten your teeth.
We are proud to provide both in-surgery teeth whitening and at-home treatments that are safe for our patients to use from home. At-home professional teeth whitening involves a custom made set of trays that are designed to fit your teeth, tooth whitening gel and all the information you need to carry out teeth whitening at home. In-surgery teeth whitening involves the use of hydrogen peroxide, which is then applied to the teeth, leaving them whiter and brighter. In-surgery whitening can be completed within 60 minutes.
Our Teeth Whitening Treatments
Our experienced and professional dentists in Manchester offer three different whitening treatments:
Boutique®
At-home treatment with whitening trays and gels
Zoom®
In-surgery whitening treatment conducted by our professionals
Enlighten®
Premium teeth whitening combining at-home and in-surgery treatment
Our team of experienced dentists will discuss the correct treatment for you during your consultation.
How Does Teeth Whitening Work?
Teeth whitening involves the application of a whitening agent, which helps to break down the discoloured molecules in the teeth. This whitening agent will contain peroxide, which has the ability to lighten the existing colour of your teeth. It breaks stains into smaller pieces, therefore making your teeth brighter and existing stains less noticeable. The peroxide gel is able to diffuse these stains, creating the perception of whiter teeth.
Which Teeth Whitening Treatment Is Best For Me?
Our team of warm and welcoming dentists in Manchester will sit down with you during your consultation and discuss the best treatment options for you. Teeth whitening is suitable for everybody but depending on what you're looking to get out of your teeth whitening experience, you may prefer to use our at-home products or have us work with you in-surgery to achieve the results.
Should I Avoid Certain Foods When Whitening My Teeth?
It is recommended to avoid acidic foods and drinks after teeth whitening treatment, or just before. This is because your teeth could be more sensitive to them after treatment, making them feel irritated and uncomfortable. There is also the possibility that these foods could cause restaining, so it is best to avoid acidic and sugary food and drinks. We also recommend avoiding strong liquids like coffee, tea and wine to prevent restaining, and to avoid these foods and drinks for around 24-72 hours after treatment.
Will Teeth Whitening Remove Stains?
Yes, it successfully removes surface stains. All natural teeth will whiten, but some whiten faster than others. This is why it is so important to see our team of professional dentists in Manchester, who have full understanding of teeth colour and staining, to ensure you get the best possible results from your treatment.
Will Teeth Whitening Work With Other Treatments Such as Crowns And Veneers?
This will be discussed with you during your consultation, but it's best to seek teeth whitening treatment before other cosmetic dental treatment like crowns and bonding. If you have any crowns or fillings, these will not change colour during teeth whitening treatment. Restorations on the front teeth will not whiten, and active dental decay and gum disease will need to be addressed before teeth whitening treatment.
Frequently Asked Questions
Here at Ringway Dental, we've put together some of the most frequently asked questions that we get from our patients seeking teeth whitening treatment at our Manchester practice. If we still have not answered your question on this page, please do not hesitate to get in touch with our friendly team who will be more than happy to assist you.
Is Teeth Whitening Safe?

Teeth whitening at Ringway Dental is completely safe. Our experienced dentists will do everything they can to put you at ease if you are nervous, but you can have the peace of mind that professional teeth whitening is completely safe. Our products will not damage your enamel.

It is possible to experience discomfort during your treatment and for the short period after. However, this pain should not be unbearable and shouldn't last more than a few days after your treatment. The teeth whitening treatments we use are completely safe and any pain felt is due to slight sensitivity, not any damage done to your teeth or enamel.
Which Teeth Whitening Method Is Best?

Our knowledgeable team will discuss which treatment is right for you during your consultation. We will weigh up the pros and the cons of each with you and make sure you are fully satisfied with your decision before we go ahead with a treatment plan. All of our treatment plans are bespoke and completely tailored to your individual needs.
How Much Does Teeth Whitening Cost?
Here at Ringway Dental, our teeth whitening treatments in Manchester start from £250.00 with three different treatment options available. While the cost of professional teeth whitening may be higher, you will receive a bespoke treatment that is safe, rewarding, and specifically tailored to your needs.
How our At-Home Whitening Trays and Gels Work
Our premium Enlighten whitening treatment involves some in-surgery care, before we provide you with carefully tailored whitening trays and gels to take home and use for 14 days. This uplifts the overall quality and length of the treatment, allowing you to take control of your 2-week whitening procedure in the comfort of your own home.
 
First, we'll arrange an in-person appointment to examine your teeth and check your suitability for using the whitening trays. We will then take moulds of your teeth and send these to the Enlighten lab, where your custom-made trays will be developed. After you pick these up from the surgery, you're able to begin your 14-day at-home treatment. The trays are to be worn at night times while you sleep, as the gel gets to work lightening up your enamel over the course of the treatment. The gel contains active ingredients designed to whiten your teeth, while the lengthier treatment sustains the quality and brightness of your final results.
 
Once your trays have worked their whitening magic, you'll return to the surgery where we'll pamper you with the Enlighten VITA B1 whitening experience to top it all off. You can then use the Evo-white toothpaste afterwards to ensure your teeth remain at their ultimate brightest.
How Much do Whitening Trays Cost?
Our Enlighten whitening tray treatment is a popular choice, and costs £550 for the entire in-surgery and 14-day gel and tray whitening process. This works out at £34.40 per day over the full 16-step experience.
Boutique®
£250.00
Zoom®
£450.00
Enlighten®
£550
Reviews
We love to see our patients leave our practice with a whiter and brighter smile. Please see below reviews from our satisfied patients.
Process Explanation
The first step in the process to getting your dream smile is to book a consultation with our friendly team in Manchester. Our professional teeth whitening dentists will sit down and discuss the best treatment option for you.
If choosing in-surgery power bleaching, you will then rebook for another session lasting just 60 minutes. During this session your teeth will be whitened under the supervision of one of our dental professionals. You will experience a whiter smile without having to wear the trays at home.
If you opt for at-home whitening trays and gels, we will take a digital scan of your mouth to produce your individual whitening trays. You will then return to the practice where our professionals will ensure the whitening tray fits and show you how to use the gel.
Aftercare Process
Please do not consume any high-staining food or drinks such as red wine, coffee or tea 24 hours before and after your teeth whitening sessions. No smoking before and after your appointment to see optimum results. Please regularly book hygiene appointments at our practice in Manchester to monitor your oral health.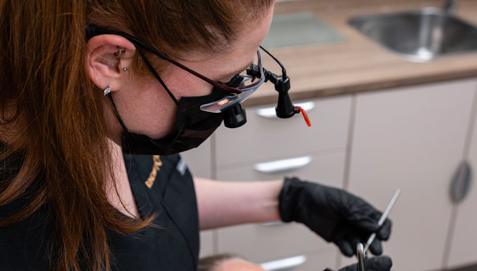 Before & After Teeth Whitening
We are very proud of the difference we make to our patient's lives by transforming their teeth. By doing so, we not only create a mesmerising smile, but also completely enhance their confidence and make them proud of their brand new smile.
Please view our before and after photos below to see how we have transformed our patients' smiles.
To learn more about our teeth whitening treatments, contact our team in Manchester today on 0161 437 2029. Speak to us about our Dental Care Packages.