Enhancing Your Appearance With Facial Aesthetic Treatments
How To Improve Facial Aesthetics
Here at Ringway Dental, our knowledgeable team understands just how important our appearance can be to us. If you're not feeling proud or confident in your appearance, it can begin to impact how you feel about yourself. Facial aesthetic treatments are a way to address the parts of your face and smile that you're not so happy with. Although cosmetic dentistry can transform your smile, there are also treatments that have the ability to change the appearance of your whole face. These can leave you feeling truly pleased with your facial aesthetics and how you look.

Read more below to find out what facial aesthetic treatments are and how we can help enhance your appearance at Ringway Dental.
What Are Facial Aesthetic Treatments?
Facial aesthetics involve a number of treatments that can improve your appearance. They enhance your natural beauty and help to highlight your facial features. Here at Ringway Dental, we offer the following tailored anti-ageing aesthetic procedures:
Our anti wrinkle injections aim to revitalise and restore youth to the skin. This is a non-surgical solution to fine lines and wrinkles. These injections are a fast, safe and effective way to relax your facial muscles, improving the appearance of wrinkles like crow's feet and frown lines. Contrary to popular belief, anti wrinkle injections can be appealing to any age as they can also delay new wrinkles forming. The results from anti wrinkle injections usually last for around 3 months.
In total, this procedure should take around 30 minutes and results will be visible around a week after treatment.
Using a substance called hyaluronic acid, dermal fillers help the skin to appear firmer and plumper. They rejuvenate the skin and minimise signs of ageing, along with helping to contour the face and create volume. Dermal fillers can be applied to the cheeks and around the nose and mouth. They help to smooth the skin and give a more youthful appearance.
Dermal fillers will take around 30 minutes, and are fast and effective. It is a long lasting treatment but not permanent, with most patients reporting that their results lasted around 12 months.
Lip fillers are similar to dermal fillers in the way that they both use hyaluronic acid. Lip fillers plump up and enhance the lips whilst still maintaining a natural appearance. We use dental anaesthesia to make sure that you do not feel anything during your lip filler treatment, but you could experience some swelling afterwards.
Results can vary but patients tend to see them last for 6 to 12 months.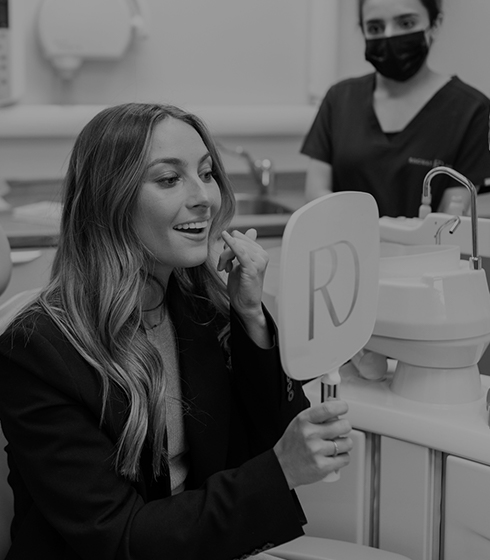 The Benefits Of Facial Aesthetic Treatments
There are many benefits to improving your facial aesthetics through these procedures. They help your confidence to grow and can improve your self esteem. Signs of ageing and wrinkles on the skin can make us feel insecure in our appearance, so why not give yourself a confidence boost?
Facial aesthetics are also non-surgical which means shorter recovery times and less risk of side effects. These treatments are often quick and painless, with results often lasting up to a year. They are also completely safe when performed by one of our experienced professionals, giving you excellent results every time.
Click here to read more about the facial aesthetic treatments we offer at Ringway Dental.
Facial Aesthetics And Cosmetic Dental Treatment
When choosing a dental practice like Ringway to provide you with facial aesthetic treatments, it means you're working with a team you can trust. We believe that the cosmetics behind your smile shouldn't just be limited to your teeth. Aesthetic treatments can also enhance your smile, and even more so when combined with a cosmetic dental procedure.
A dentist is more likely to have knowledge of oral and facial areas than other healthcare professionals, which is why we would recommend choosing a dental practice to provide you with aesthetic treatment. Dentists are also highly experienced with injections and have a complete understanding of facial dynamics.
Transform Your Appearance With Ringway Dental
Here at Ringway Dental, we promise to create a comfortable environment the second you enter our practice. We believe that if you are comfortable opening up to our team then we can really get to the bottom of what you're looking for and how to help you. Our professional team will ensure that you leave our dental practice feeling confident and happy in both your appearance and your smile, with the results you've always desired.
To learn more about how facial aesthetic treatments can give you the look you've always dreamed of, or to book a consultation with a member of our friendly team, get in touch today. Call us on 0161 437 2029. We look forward to hearing from you.
Related Posts