Should You Use NHS or Private Orthodontic Treatments?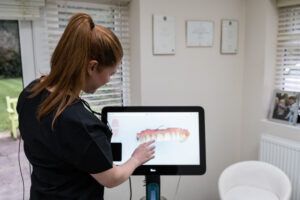 The availability of Manchester orthodontic treatments has unfortunately been lacking in recent years. While the NHS can offer some patients orthodontic treatments, the ability to secure dental care with the NHS is becoming increasingly rare.
This is why many of our patients at Ringway Dental come to see us for teeth-straightening treatments instead. While we specialise in cosmetic dentistry, orthodontics does fall into this category – it's all about helping you achieve the smile you've been looking for.
If you're weighing up the pros and cons between finding a private orthodontist or trying to have treatment through the NHS, we can help you figure it all out. Here's our guide on whether it's best to use NHS or private orthodontic treatments.
What Do Orthodontic Treatments Involve?
Orthodontics has come a long way regarding the modern and innovative practices used to straighten up our teeth. Orthodontic treatment is also much more accessible than it has been in the past, with highly skilled dentists available and offering flexible payment options. Here are a few of the options offered today:
Invisalign
Invisalign is an increasingly popular way to achieve straighter teeth. Almost invisible to the eye and considerably more comfortable than traditional braces, Invisalign uses removable aligner trays to subtly shift the teeth into place. Invisalign costs begin at £1,700. With Ringway Dental, we also offer free teeth whitening treatments worth £295!
Traditional Braces
Traditional braces are still in use, although those visiting private dentists will have increased choice in terms of whether they'd like to select the more subtle modern options.
Hidden Braces
Hidden braces are also known as lingual braces. They're essentially a reverse version of traditional braces, carefully contoured to fit to the back of the teeth rather than the front. This means they are ideal for practically invisible straightening, yet they offer impressive results.
Ceramic Fixed Braces
Ceramic fixed braces incorporate that desire for subtlety with the effective impact of traditional braces. They are a more discreet version of classic braces, using metal brackets and wires to align teeth properly, secured in place with a clear ceramic fixture that matches the colour of the teeth. Ceramic braces can work faster than other options such as Invisalign.
Can You Get Orthodontic Treatment on the NHS?
Many people seeking orthodontic treatment are teenagers or young adults. While young people might qualify to receive orthodontic treatment on the NHS, there are lengthy waiting times involved. As an adult, you will most likely not qualify to receive orthodontics on the NHS.
This is why Ringway Dental offer affordable options for dental care. Our private dentists in Manchester offer 0% interest payment options for those who are eligible – just as we do with most treatments available at the surgery.
Should You Use a Private Orthodontist?
There are plenty of current debates surrounding the state of NHS healthcare itself, without digging deeper into the intricacies concerning the provision of NHS dental care.
Due to extensive waiting times involved with all forms of NHS care, an increasing number of patients now use a private orthodontist. This is often not through choice, however these patients are often pleasantly surprised! Here are a few of the reasons going to a private orthodontist may actually benefit you:
Improved Standards of Care
While the NHS is a country-wide organisation, most dental practices are small, generational businesses that are proud to put their name to the services they offer. Due to this, it's only natural that private orthodontists and dentists are more likely to go that extra mile in providing you with the quality treatment you deserve.
Continuity of Care
This is one many patients will overlook while seeking NHS orthodontist treatment. Straightening your teeth takes time – it's not a one-stop fix for you, or your teeth. In any dental setting, but perhaps even more so in orthodontics, it's worth seeking a practice where you know you will receive continuity of care from a dedicated practitioner. The NHS is understaffed to the point you may end up seeing a different orthodontist each time you have a check-up. There is just no way to guarantee you will be able to build up that rapport necessary between patient and dentist within the NHS.
Attention to Detail
While NHS orthodontists are equally as skilled and trained as their private counterparts, a lack of funding in terms of resources and time is adding extra strain within the system. This means you may not receive that same quality and attention to detail you would if you went to a private orthodontist.
Additional Treatment Choice
The NHS is becoming increasingly reserved for those seeking emergency dental care. Orthodontics are not an emergency, and require long-term treatment plans that the NHS struggles to offer to an adequate extent. Private dental practices ensure you maintain that level of autonomy over your own dental health and your cosmetic dental options, offering bonus treatments within the very same practice. With private orthodontists, you'll retain the option to choose the type of braces or treatment that you prefer; not just what is deemed necessary or most affordable on the NHS.
Faster Appointments
If you're waiting for NHS orthodontists in Manchester, you may need to brace yourself… Waiting times can range anywhere from 3 months to 12 months! Considering that having braces and achieving a straighter smile takes a great deal of time anyway, these timeframes likely aren't something you're willing to put up with. In private dentistry, you can often secure a next day appointment – depending on availability.
Difficulties Securing NHS Care
It is increasingly difficult to secure NHS dental care, and that's if you're even eligible in the first place. The lengthy waiting times and even gaps between appointments – especially in orthodontics – can cause added stress to patients, who often regret that they didn't choose to go to a private practice in the first place.
Interest Free Finance Options
NHS care is not free for the majority of patients. Most private practices and orthodontists in Manchester now offer 0% interest payment solutions. At Ringway Dental, you can spread the cost of your treatments over the space of 36 months – while receiving that extra level of care!
Private Orthodontist Treatments with Ringway Dental
At Ringway Dental, our highly skilled team have years of expertise in working across a diverse range of dental health sectors and specialisms. While our private dental clinic is renowned for our expertise in cosmetic dentistry, our surgery is lucky enough to have expert Manchester dentists with a special interest in orthodontics.
If you're looking for orthodontic treatment from a private dentist, we can help. Located in Cheadle, our comfortable surgery is just a stone's throw away from many surrounding areas including Wilmslow, Alderley Edge, and Stockport. We are committed to helping our patients achieve the smiles they've been waiting for.
If you've been considering seeking braces or treatments to straighten your teeth, it's likely been playing on your mind for a while. To book an appointment with our orthodontic team now, call the surgery on 0161 437 2029. Alternatively, get in touch via our online contact form and we'll get back to you.
Related Posts