Swollen Gums: What Do They Mean?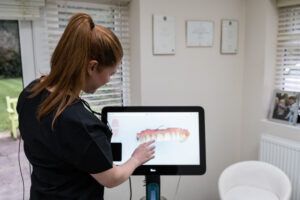 Swollen gums can be a sure sign that something is not quite right with your oral health. While many might overlook this symptom, it's crucial to understand the underlying causes and address them with help from your dentist.
Unfortunately, for some patients, it can be impossible to ignore the symptoms associated with swollen gums. Swelling of the gums can indicate there is a serious problem, which means this common dental complaint often presents alongside other irritating symptoms. It also means you definitely need your teeth and gums checked over by a dentist.
In this guide, we'll explain some of the common reasons behind swollen gums – as well as how you can tackle this concerning symptom effectively.
Gingivitis
Gingivitis is an early stage of gum disease. If you have gingivitis, you may notice your gums appear more red than normal. Your gums may swell, and you may also notice bleeding as you brush your teeth. You might notice your gums even feel softer, as your body's inflammatory response to bacteria sends extra blood to help fight the infection.
Cause:
Gingivitis is primarily caused by the build-up of plaque on teeth. Plaque effectively means bacteria – and when it isn't removed effectively, it produces toxins that irritate the gum tissue. This can lead to swelling due to the body's natural response to inflammation, which sends blood to the affected area.
Gingivitis is quite common, with many adults (and even children) experiencing some form of gingivitis throughout their lives.
Implications:
If left untreated, gingivitis can progress to a more severe form of gum disease called periodontitis. This can progress quickly, spreading and damaging the bone and tissues holding the teeth in place.
Solution:
Regular, thorough brushing and flossing can help prevent and even reverse gingivitis in its early stages. Professional dental cleanings (often referred to as a scale and polish) can also help remove hardened plaque. If you suspect you may have gingivitis, get in touch with your dentist for professional advice.
Infection
Swollen can often indicate there is an oral infection your body is trying to fight off. Any type of dental infection can quickly become a severe concern. Some types of infection progress very quickly, even if you feel fine. Swollen gums often indicate there is an oral infection your body is trying to fight off.
Cause:
It's essential to maintain good oral hygiene to prevent infections, though we understand this is not always possible!
For example, impacted or partially erupted wisdom teeth may make it difficult to reach and cleanse areas properly. A bacterial or fungal infection can result, leading to painful and swollen gum abscesses or mouth ulcers. Infection is less common than gingivitis, but oral infections do occur – especially if there's an untreated cavity or a wound in the mouth.
Implications:
Untreated infections can spread to other parts of the mouth and even to the bloodstream, causing sepsis. Whilst a simple infection of the gums can be easily treated with antibiotics or removal of any decaying tissue, leaving the problem can lead to much more severe health issues.
Solution:
Oral infections require prompt attention. A dentist might prescribe antibiotics or antifungal medications, depending on your specific issue.
Vitamin Deficiency
If you have a vitamin deficiency, this can cause symptoms throughout the body – including within the mouth.
Cause:
Lack of essential vitamins, especially Vitamin C and Vitamin K, can lead to gum problems. These issues can lead to swelling.
Implications:
Swollen gums are just one symptom of a vitamin deficiency that may need addressing. Vitamin deficiencies can also lead to an array of other unwanted health problems, such easy bruising, fatigue, or anaemia.
Solution:
Making sure you have a balanced diet rich in fruits, vegetables, and whole grains can help prevent vitamin deficiencies. If you suspect your swollen gums are linked to vitamin deficiency, talk to your doctor and dentist. You may need supplements to address the underlying issue.
Aggressive Brushing
Most of our patients with swollen gums are very meticulous with their dental care regimes. It is possible to brush too hard, however, which can result in swelling.
Cause:
Brushing your teeth too hard or using a hard-bristled toothbrush can damage the delicate gum tissues, leading to swelling. It's a common issue, especially for those unaware of the proper brushing techniques.
Implications:
Over time, aggressive brushing can lead to gum recession, increased tooth sensitivity, and even enamel wear.
Solution:
Use a soft-bristled toothbrush and employ gentle circular motions while brushing. If unsure about your technique, seek guidance from your dentist or dental hygienist.
Pregnancy
During pregnancy, many women will experience issues with their oral health. As hormones fluctuate throughout each trimester, it can be common to be a bit confused about the oral manifestations linked to your pregnancy.
Cause:
Hormonal changes during pregnancy can increase blood flow to the gums and make them more sensitive, leading to swelling or even "pregnancy gingivitis." Swollen gums in pregnancy can be quite common, as many experience changes in their oral health during pregnancy.
Implications:
Gum issues during pregnancy can increase the risk of delivering a premature or low-birth-weight baby. This may be linked to the implications associated with infection and how the body responds by concentrating its efforts on eliminating the harmful bacteria in the body; rather than focusing on the pregnancy.
Solution:
If you are pregnant, make sure to maintain a meticulous oral hygiene regime and continue attending regular dental check-ups. You should also inform your dentist about your pregnancy, so they can provide more tailored advice and care.
Get Rid of Swollen Gums at Ringway Dental
At Ringway Dental, we can help address any issues you may have with swollen gums.
Our private dental surgery is based in the heart of Cheadle, and is equipped with the latest cosmetic dental technology and a dedicated team of welcoming cosmetic experts. If you have any issues with your dental or oral health, do get in touch. Call our reception on 0161 437 2029 or feel free to ask any queries via our online contact portal.
Related Posts