The Advantages of Dental Implants for Your Smile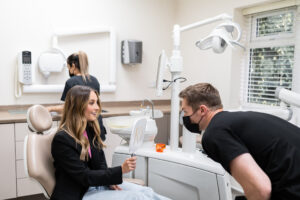 Dental implants are one of the best treatment options if you have a missing tooth or missing teeth. Having a dental implant procedure done first involves a general oral health check-up with your chosen dentist. They will examine your teeth for any outstanding issues that need dealing with before you have your dental implant fitted. For example, you may have a build-up of plaque on the teeth around your 'gap' that needs addressing with a deep clean.
Once your general dental health is in top shape, you can begin the dental implant process. A dental implant consists of an implant screw, which is a titanium implant designed to sit comfortably inside your jawbone. This works as a replacement for the natural root that would otherwise be attached to your missing tooth.
You won't feel the procedure being done, as you will be given anaesthetic around the implant area. Once the procedure is done, your implant will be firmly in place. You will have to wait for the implant to 'take' as it fuses with the surrounding jawbone. While this does involve some waiting time, you can be given a temporary fixture to wear or attach in the meantime.
After your dental implant has fully fused, you're ready to have your implant completed. Visiting the dentist again, you'll have your bespoke-made dental implant screwed on to the titanium screw.
Although the process of getting a dental implant sounds lengthy, it's certainly worth it. Here's some more information on why dental implants are so beneficial.
Improved Appearance
Dental implants are used to replace missing teeth, which can make us feel self-conscious and decrease our confidence levels. While we may like to think aesthetics don't matter too much, having missing or decayed teeth has long been associated with facing judgement and discrimination. However, losing a tooth can happen to anyone. It's important for your emotional and physical wellbeing that you address these issues when you can. When our smiles aren't looking their best, this inevitably has an impact on our daily lives and interactions with others.
This is why many patients come to us at Ringway Dental for dental implant treatments. Once we have restored their smiles, these feelings of discomfort about the way they look often vanish. Teeth are one of the key ways we show emotion and communicate with people. Whether that's through smiling, talking, or laughing with others – taking care of our teeth and their appearance can enhance our confidence levels.
Better Oral Health
Once you lose a tooth, the entire layout of your teeth can shift. Teeth will naturally move to fill in any gaps. This is why you may notice the shape of your smile changing after tooth loss.
Dental implants are great for addressing this issue, filling in the gap that your teeth are trying to close in on. If your teeth do shift too much and your missing tooth is not replaced by a dental implant, you may find that your smile becomes noticeably misaligned. They also prevent your jawbone from shrinking as it recognises there is no tooth there to support. This can even have an impact on your facial appearance.
Alongside the risk of shifting smiles, tooth loss can drastically increase the risk of gum disease. Also known as periodontal disease, gum disease is a serious issue caused by an excessive amount of bacteria turning into plaque along your gumline. Periodontal disease will impact not only your gums, but the teeth surrounding the gap where your missing tooth is. When patients leave it too long, there are unfortunate cases where the adjacent teeth also have to be extracted and replaced due to gum disease-related deterioration.
Strength and Longevity
The tooth part of a dental implant is made of porcelain. Porcelain is the highest quality material used in teeth restoration. Dental porcelain is biocompatible, meaning it makes an excellent replacement for teeth. It's also the material that mimics the natural look and feel of teeth the closest, with its slightly translucent appearance.
The screw element of a dental implant (placed and fused to sit comfortably inside the jawbone) is made from titanium. This is the go-to metal used in medical implants, due to its strength and highly resistant properties. It's also lightweight, so the titanium doesn't add any additional pressure to the jawbone. Titanium is also known for its 'hard-tissue compatibility', meaning it bonds to bones easily. With good, consistent care, your dental implant can therefore last a lifetime!
Easier Living
When you have a missing tooth (or teeth), it's often underestimated just how much having even one gap in your teeth can impact your daily living. One key advantage of dental implants is that your teeth will be restored – allowing you to enjoy things normally again.
Eating is highly affected by a missing tooth, and having a dental implant can address all the issues that come with this. If you have a gap, it's much easier for food particles and the resulting bacteria to settle on your surrounding teeth. This can be difficult to clean around, and while the bacteria have full access to the sides of your other teeth – you're at a much higher risk for developing gum disease.
Dental Implants with Ringway Dental
At Ringway Dental, we offer private dental services to those around Greater Manchester; including Stockport, Cheadle, and Cheadle Hulme.
Our highly equipped dental practice is designed to be a comfortable space. Where patients can unwind and leave feeling as though a trip to the dentist is less of a chore – and more of a pampering experience.
If you're interested in dental plants as a potential treatment option, call us today on 0161 437 2029. Our friendly team can help with any questions you may have, while our hundreds of 5* reviews will reassure you that you're in the right hands.
Related Posts