Dental Implants
The Best Dental Implants In Manchester
Considering cosmetic dental procedures as a work of art means we truly take pride in transforming our patients' teeth. We offer a variety of procedures along with our dental implants, meaning we are always able to find a treatment that is suitable to you, your teeth and what you're looking for.
Read more about our dental implant procedures below or contact our Manchester practice today. Speak to a member of our team today on 0161 437 2029 who will be more than happy to assist you in finding the right dental implant procedure for you.
What are dental implants?
Dental implants are used to replace teeth that have fallen out or need extracting. They are created using a titanium screw that is implanted into the gum.
The implantation process must be fully healed before your new tooth is attached. A replacement tooth will then be attached to the screw. This is also known as a 'crown'.
Would I benefit from dental implants?
You may benefit from dental implants if you have a missing tooth or several missing teeth, or if your dentist recommends that you have a tooth taken out. Dental implants can improve your oral health and reduce the risk of further damage to the teeth.
Having a dental implant procedure can also do wonders for your self-esteem and confidence, if you are conscious about the way your missing tooth looks.
Do I need an implant if my tooth is missing or broken?
You may not 'need' an implant, but it would likely be beneficial to your health – and your appearance. Dental implants can help you chew food and improve your confidence.
If your tooth is broken, you may not need a replacement implant. This depends on the severity of the problem, and whether the broken tooth has exposed any inner sections of the tooth. For a minor crack or chip, composite bonding treatments can help.
What if I'm missing multiple teeth?
If you are missing multiple teeth, we can help you decide on the best treatment option for you. Some patients will opt for a dental bridge instead of a crown, as this can restore the function and appearance of a row of teeth. A dental bridge is also less invasive than a dental crown, especially since you would need multiple crowns fitting. Another alternative for multiple missing teeth would be dentures.
How long does a dental implant take?
It can take up to 16 weeks for your titanium screw to heal, or fuse. Your body needs to grow the gum around the implant, so your new tooth has a solid foundation to attach on to.
A dental implant procedure starts with an initial consultation with us, where we will help determine whether the treatment is suitable for you.
The implant procedure itself takes around 1 or 2 hours to complete. You will then need follow-up appointments after healing to have your crown fitted, as well as any further checkups to maintain your dental health. Read more in our blog post: How long does a dental implant take?
How much do dental implants cost?
Dental implants cost from £2,200 per tooth. All-on-4 dental implant costs start at £8,000, while implant retained dentures are priced from £6,000.
Does getting a dental implant hurt?
No, it doesn't hurt. Before the procedure, we will inject a local anaesthetic, so the area is fully numb beforehand.
The healing process can cause some discomfort, so you should be careful while eating and drinking. Following our aftercare advice will help the healing process go smoothly. Over-the-counter painkillers can help if you do feel any pain after your procedure.
What is the procedure for getting a dental implant?
To get a dental implant, you can book a consultation with us at Ringway Dental so we can
examine your teeth. You can then book your procedure appointment, where your implant will be fitted.
After this, the healing process can take between 10 – 16 weeks, during which time you should be careful, following our recommendations and aftercare advice.
Once your implant is fully healed, we will examine the area and fit your dental crown. To book a consultation now, call Ringway Dental on 0161 437 2029.
Is there anything I need to do after getting an implant?
After a dental implant, you may feel some discomfort once the local anaesthetic begins to wear off. This pain should fade after a few days. Some people have some swelling around the area or develop bruises, which will disappear in around a week. You can take over the counter pain relief to reduce any symptoms.
Aftercare involves following our advice. You may receive some instructions that are specific to your treatment plan. General advice involves:
Keep the mouth clean
Rinse with a salt and warm water mixture to cleanse and encourage healing
Do not brush around the implant area for a few days
Do not smoke or vape
Avoid hot or cold drinks
Eat carefully to prevent any food going near the implant area
Rinse your mouth after eating
Is there a follow up appointment?
Yes, you will need to attend your follow-up appointments after your implant has healed so you can have the final step of your treatment. This is where you will have your dental crown fitted to the implant, and you can then enjoy the final results.
You should also have regular follow up appointments after this to maintain your dental health.
How do I care for an implant?
To care for your dental implant after the procedure, keep the mouth as clean as possible. A warm salt and water solution can be used to rinse the mouth regularly, which will aid the healing process.
You need to avoid getting any food lodged near the implant area. Avoid vigorous brushing around the implant, and do not smoke. Once your dental crown is fitted after healing, you can clean the mouth as normal.
How long do implants last?
Dental implants are one of the most durable dental treatments available. Their ability to withstand the test of time offsets the cost of the treatment, when you consider the lasting benefits of your procedure. The majority of dental implants last for over ten years.
Before and After Gallery
Before
After
Before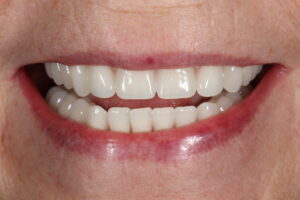 After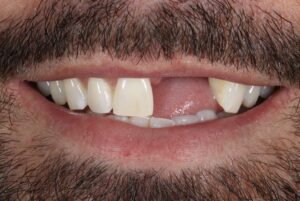 Before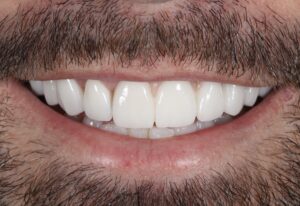 After
Our Dental Implant Services
We conveniently offer same day treatment for our all-on-four, all-on-six procedure. This procedure is designed to bring back teeth function for patients with multiple missing or soon to be extracted teeth.
At our modern practice in Cheadle, Manchester, we are even able to provide our patients with a single tooth dental implant. Just one missing tooth can impact your daily living and we understand how inconvenient it can be when this happens.
Another dental implant procedure we offer is implant-retained dentures. Implant-retained dentures are fixed to the jaw via implants.
Speak to us
You can contact our team at Ringway Dental to find out more about the dental implant process. Alternatively, call the practice now on 0161 437 2029. Speak to us about our Dental Care Packages.