What Can I Expect from a Smile Makeover?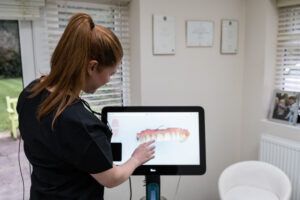 At Ringway Dental, we offer personalised Smile Makeover packages to help our patients achieve the smiles they've always wanted. Our Smile Makeovers include bespoke treatment plans that are carefully tailored to your dental needs and expected outcomes, where our experienced team will evaluate exactly which treatments will work best for you.
Your Smile Makeover will involve incorporating a range of cosmetic dental treatments that our experienced team have specialised in for years. Renowned for being the go-to cosmetic dental experts throughout the Manchester area, our luxurious surgery in Cheadle offers a pampering experience with a welcoming atmosphere.
In this guide, we'll explore what you can expect from your Smile Makeover with Ringway Dental. There are a series of cosmetic processes and treatments that may be involved throughout, so we'll outline each one below.
Your Smile Makeover Consultation
Our team will work with you to identify the best treatment routes that suit your schedule and smile goals. In doing this, we'll first arrange your Smile Makeover consultation at the surgery.
In this consultation, we'll identify any outstanding dental health work that may be required before we can move ahead with cosmetic procedures. The exact treatments and timeframes involved with your bespoke Smile Makeover will vary, depending on your ultimate goals. Throughout the process, we'll ensure you are well informed and comfortable with the treatments planned.
Once we have examined your teeth and designed a range of treatments to suit your goals, we'll move on with your treatment plan. Again, this can involve a combination of any of the below procedures:
Teeth Whitening
The results of teeth whitening can be truly transformative, uplifting your smile and even helping brighten your teeth to be several shades lighter. Our range of teeth whitening options are often included within a Smile Makeover, and we offer a combination of in-surgery and at-home treatments to ensure we find the ideal process for you.
Depending on your bespoke treatment plan, we'll inform you of the best time to have your teeth whitened. For example; if your plan includes orthodontic treatments like Invisalign or ceramic braces, it's best to wait until after your teeth are straight so we can achieve a uniform finish. If you are having veneers or composite bonding, we'll whiten your teeth before the procedure. This means we can accurately match the colour of the composite materials used to seamlessly blend alongside your new, brighter natural teeth.
Orthodontic Treatments
Orthodontic treatments are frequently used in our Smile Makeovers. For patients looking to achieve straighter teeth and correct any misalignments, this is often the best way to begin the process. Braces and orthodontic corrections do take time, so patience can be key when it comes to some treatment plans!
We offer the latest in orthodontic dental technology, such as Invisalign, ceramic braces, and hidden braces, which are all subtle yet effective ways to manage orthodontic treatment. Again, timeframes will vary depending on the initial presentation of your teeth and the severity of corrections we are looking to achieve. If we can't perfect your teeth using braces, bonding or veneer treatments may be a more time-effective alternative to consider.
Composite Bonding
Composite bonding is used to repair chips, cracks, and gaps in teeth. It can reduce the severity of some misalignments, though for some patients, veneers will be a more effective option.
During the composite bonding process, we'll apply a carefully matched, tooth-coloured composite resin to the selected teeth. This is then professionally sculpted and shaped by the dentist, before being polished to create a natural-looking finish.
Composite bonding is a popular choice for those needing to uplift just a couple of teeth. It's also done in just one visit to the dentist, so you'll benefit from instant results.
Composite Veneers
Composite veneers are like composite bonding, using the same resin material and sculpting process. However, instead of 'building up' and repairing smaller areas on the teeth, the resin is applied to cover the entire surface of the teeth.
Composite veneers are often applied to an entire row of teeth, achieving a uniform finish that conceals misalignments, imperfections, and chipped areas. It also covers miscoloured and stained teeth that can't be treated using teeth whitening products. Composite bonding can be completed in just one sitting, so you can leave the surgery with an entirely new smile!
Porcelain Veneers
Porcelain veneers are a step up from composite veneers, as the porcelain material used replicates the semi-translucent appearance of real teeth. They can achieve a more natural effect, with the thin porcelain shell expertly bonded to the surface of a row of teeth. Like composite veneers, porcelain veneers address a variety of cosmetic dental concerns, including chipped teeth, discoloured areas and gaps.
Porcelain veneers are more costly due to their enhanced durability and realistic appearance. However, they do last longer than composite veneers and are less likely to need as much maintenance. The process does require a couple of trips to the dentist, as your new teeth will be expertly developed and refined in a lab before the final fitting.
At Ringway Dental, we use high-quality materials that are safe and long-lasting. All our composite resins and porcelain veneers are made from biocompatible materials that the body tolerates well. This enhances the lifespan of results from our treatments and procedures, while our aftercare schedules ensure quality dental health and cosmetic maintenance.
Book Your Smile Makeover with Ringway Dental
Our Smile Makeovers are bespoke treatment plans, tailored to each patient's individual needs. Once complete, you'll benefit from a transformed smile that can enhance your confidence and boost self-esteem. We'll also advise you on the maintenance and upkeep of your new smile, so you can enjoy it for years to come!

Since every plan is unique, there is no general timeframe or pricing we can advise on until you have had an initial consultation with us. We do offer 0% interest financing options so you can spread the cost of your Smile Makeover over 36 months.
As local dental experts in Manchester cosmetic dental treatments, our private Ringway Dental surgery is situated in an excellent location for clients around the Greater Manchester, Cheadle and Stockport areas.
If you begin your Smile Makeover journey with us, our friendly team will guide you through every step of the process – ensuring that you're comfortable and informed throughout. Call us now on 0161 437 2029 to schedule your consultation!
Related Posts