How Effective is Composite Bonding?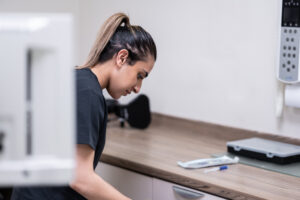 Composite bonding is a highly effective way to transform your smile with minimal effort and time. If you have slightly misaligned teeth, chips, or discoloured areas, composite bonding is a great treatment option that can restore (and even enhance) your smile.
If you are considering giving your teeth an upgrade, composite bonding can help. If so, you will likely have a few questions about the process – how it works, and how long composite bonding lasts. Here's our guide to how effective composite bonding is and how it works.
What is Composite Bonding and How Does it Work?
Composite bonding is where a specially made dental resin is attached and shaped around your existing teeth. It's recommended for people who have cosmetic concerns about their smiles.
For example, you may have a single chip in one tooth that you'd like repairing. Or, you may have a couple of teeth that look a bit crooked. Composite bonding can help in a variety of situations, and the way it's professionally moulded to each tooth means your dentist can carefully restore the way your smile looks on an individual basis.
What is the Procedure of Composite Bonding Like?
Once you have decided you're interested in composite bonding as a potential treatment option, you'll have to book an appointment with your chosen dentist. They will examine the overall health of your teeth and let you know if composite bonding is a suitable treatment that would help meet your goals.
If you and your dentist decide composite bonding is for you, the entire treatment process can be completed in one sitting. Many patients opt for composite bonding for convenience and pricing, as it's one of the most effective ways to transform your smile in just one trip to the dentist.
During the procedure, your dentist will use a non-invasive technique to roughen the texture of your teeth so the bonding materials can be applied effectively. They will then apply the composite resin to your teeth, skilfully refining its shape to restore or enhance the appearance of your teeth. The resin material will be fully smoothed out so it sits comfortably against the tooth. Your dentist will then use a light to bond the resin to your teeth, before polishing and ensuring everything looks perfect.
How does Composite Bonding Look?
Composite bonding is a natural-looking way to boost your smile. The resin material has been carefully developed over years of practice, as the concept of composite bonding was first introduced back in 1949. Since then, dental technology and innovation has optimised the resin used in composite bonding to look as natural as possible.
Composite bonding resin is always formulated to offer a texture and shade as close as possible to your own teeth. While selecting your shade of resin material, the dentist will carefully match each option to the colour of your natural surrounding teeth.
When dentists apply composite bonding to the teeth, they'll use the most minimal amount possible. This means you end up with a subtle yet effective shift in the appearance of your teeth, without them having used so much material that it stands out against the rest of your smile.
Does Composite Bonding Last?
Composite bonding lasts between 5 – 7 years with good care. Be sure to take any advice from your dentist, as they'll be able to inform you of dental care tips that work with your own goals.
If you have composite bonding, it's recommended you stick to your dental check-ups so we can ensure everything remains in top shape. Composite bonding can deteriorate slowly over time or chip – and when this happens, it can be easily fixed by your dentist. Unlike porcelain veneers, composite bonding is an entirely reversible procedure. This means that if, for whatever reason, you decide composite bonding is not for you, it can be fully removed. This is also a bonus when it comes to repairing and refining composite bonding, as there's sometimes greater freedom with regard to adjusting the look and shape of your teeth.
Are there any drawbacks?
One thing to consider is that composite bonding does not last as long as veneers do. Composite veneers cost from £380 per tooth and can last 5-7 years. Made from the same resin material as composite bonding, composite veneers are the cheaper option if you're looking for veneers, which are useful in correcting more noticeable alignment issues.
Porcelain veneers are another option, from £850 per tooth. While they are more expensive, the porcelain material best matches the natural look and feel of teeth. Porcelain veneers last longer too, staying in great shape for up to 15 years with optimal care.
Another drawback is that composite veneers or porcelain veneers may be a more suitable option for you. Composite bonding cannot fix more major alignment issues, so in these cases your dentist may recommend an alternative treatment option.
Manchester Composite Bonding at Ringway Dental
At Ringway Dental, our private Cheadle surgery specialises in cosmetic dental treatments and procedures – including composite bonding. Our expert team of dental professionals are committed to ensuring you receive the best quality treatment available, set in our luxuriously inviting surgery. We also aim to alter the perception of the dentist; making sure trips to our surgery are more of an experience to enjoy, rather than a chore.
To find out more about how we can transform your smile in just one trip to the dentist, book an appointment with us today. You can call our reception on 0161 437 2029, or fill out our handy online contact form.
Related Posts