How to Know if a Dental Crown is Right for You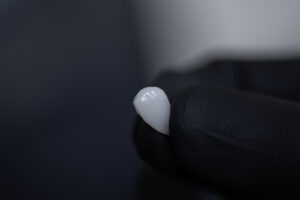 If you have a damaged or deteriorating tooth, you may benefit from a dental crown. Any damage to your teeth can cause pain, especially if the problem is not treated quickly. As well as this, the issue can also become exacerbated without treatment, eventually leading to more costly and invasive interventions.
The type of dental procedure that will work best depends on a variety of factors. Working alongside your dentist to identify the most suitable treatment is recommended.
Here's our guide on how to know if a dental crown is right for you.
What is a Dental Crown?
A dental crown is essentially a cover, or a cap, designed to sit on the tooth. Dental crowns are specifically made to mimic the natural colour and texture of the surrounding teeth, subtly blending in with the rest of your smile.
Dental crowns can be made from a range of materials, so you're given the choice regarding which suits you best. The majority of our clients opt for porcelain crowns, as this material offers the most realistic results. We also offer Zirconia or precious metal dental crowns including gold.
What Does a Dental Crown Remedy?
Dental crowns hide damaged or broken teeth. They can be used to remedy a range of dental concerns, both to enhance the aesthetics and overall health of your smile.
Tooth decay
Improve results from root canal treatments
Worn, broken and cracked teeth
Discoloured or heavily stained teeth
Your dentist can help you identify whether a dental crown would be the best way to approach any issues you have with your teeth.
What is the Procedure for a Dental Crown?
Consultation. If you are considering a dental crown, the first step is to book a consultation. During this consultation, your dentist will examine your overall dental health and take an in-depth look at any decay or damage that needs repairing. They may take x-rays to figure out how deep the damage goes. Once your dentist has confirmed a dental crown is right for you, your treatment plan can begin. You will likely be asked to book another appointment so they can prepare your tooth for the crown. If they do identify that an alternative treatment would be better for you, they can also advise you on the next steps to take.


Preparing the tooth. During this appointment, your dentist will numb the area ready to prepare the tooth. Once numb, they will work to carefully extract any decayed or damaged parts of the tooth to prevent infection. This also shapes the tooth, ready for impressions to be taken. You may experience some sensitivity following this procedure.


Scans. The dentist will take a scan of the tooth that is being treated. They will also include surrounding teeth in the scan, as they need to ensure the crown aligns with the existing teeth. The scan will be used to develop a mould for the crown, which can take up to 2 weeks.


Temporary crown. During this time and before you leave your initial appointment, your dentist will provide a temporary crown for you to fit over the tooth. This means you're not left with a half-treated tooth while your permanent crown is being created.


Fitting your crown. Your dentist will inform you when your permanent crown is ready for fitting. You will be booked in to visit the surgery, where it will be adapted to fit perfectly onto your tooth. It will be permanently bonded to the tooth using a specialist dental 'cement', an exceptionally strong dental adhesive.


Aftercare. After your permanent crown is fitted, you should take care when brushing and flossing for a few days as the dental bonding process may still be developing.
What are the Alternatives?
Although dental crowns are a highly reliable way to remedy a range of dental issues, there are alternatives available.
Dental Implants
Dental implants are ideal for replacing missing teeth. Your dentist may recommend an implant instead of a crown if the damage or decay to your tooth is too extreme to remove or repair without risk of infection. This will involve the extraction of the affected tooth, along with the implantation of a titanium 'root' into the gum.
Porcelain Veneers or Composite Veneers
Porcelain and composite veneers can be used to correct the appearance of damaged or chipped teeth. Using either porcelain or a special composite resin material, your dentist will skilfully mould the veneers over the teeth.
Composite Bonding
Composite bonding is recommended for more minor, cosmetic dental concerns. It can be completed within one sitting at the dentist and is a more affordable treatment.
In deciding which dental treatment will work best for you, it's important to work with a trusted dental professional. They will be able to examine the issue and the full extent to which any teeth may be damaged or require repairs. Ultimately, your dentist will help you make an informed decision about whether a dental crown is right for you – or whether an alternative treatment may offer better results.
Dental Crown Procedures by Ringway Dental
At Ringway Dental, our welcoming private surgery offers a range of dental health and cosmetic treatments. Combining our expertise in both of these areas, our dental crown treatments are exceptionally well-rated by previous patients. We utilise the best dental technology and our own expertise to provide dental crown procedures that leave our patients with a lasting, healthy smile.
To find out more or discuss whether a dental crown might be the right step forward for you, get in touch with us today. As always, an in-surgery consultation with our dentists is the most reliable way to get personalised advice regarding which treatments would best work for you. You can book an appointment by calling the surgery on 0161 437 2029, or complete our contact form if you have any queries you'd like us to respond to that this guide hasn't covered.
Related Posts