How to Maintain Clean Teeth After Whitening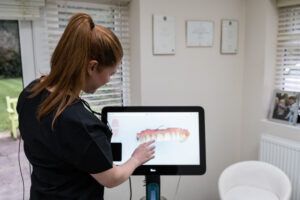 Although professional teeth whitening treatments can be highly effective, it's important to understand how to maintain your bright new smile. For longer-lasting teeth whitening results, there are a few lifestyle tips we can offer that can also boost your overall dental health.
Keeping your fresh new smile at its best can feel like a commitment, but it's one that's worth the effort. Here's our guide on how to maintain clean teeth after a whitening treatment.
Cleaning Routine
After having your teeth whitened, they are likely to feel clean and fresh. It's natural to want this dentist-fresh feeling to last, and there are ways you can keep this up at home!
Brush twice a day.
Floss every day.
Use a brightening mouthwash.
Have your teeth cleansed at the dentist regularly.
Finding the right products for you can help. Dental hygiene products often feature whitening agents, gentle abrasives, or ingredients with antimicrobial properties. Making sure you use a toothpaste containing fluoride is essential, as this helps strengthen enamel – which can help teeth appear brighter.
Foods to Avoids
Some foods and drinks can stain your teeth. Many of these contain compounds that easily bind to the enamel on our teeth, which can contribute to discolouration.
After having your teeth whitened, surface enamel is especially porous due to the peroxides used in many treatments. This is why it's recommended to avoid smoking and certain foods and beverages after tooth whitening.
This increased level of porosity is only a temporary side effect (lasting up to 48 hours), however many of the foods that we recommend you avoid directly after whitening are those that will also contribute to staining in the long term:
Tannins are natural compounds found in a range of plants, including tea leaves and coffee beans. Many choose to drink tea or coffee through a straw in the days following a tooth whitening treatment.
Many curries contain highly pigmented spices such as turmeric. These can easily stain teeth and are often even used as natural dyes.
Red wine is notorious for staining teeth due to its intense, pigmented red colour.
Fizzy Drinks or Fruit Juices
Fizzy drinks and fruit juices contain combinations of acids and colourants that can be detrimental to the appearance and health of our teeth.
Ketchup, soy sauce and balsamic vinegar are all highly pigmented sauces that, along with their acidity, can penetrate tooth enamel and lead to staining or erosion.
Many of these foods contain significant amounts of natural acids, which can erode the enamel on our teeth down. Some people resort to eating only bland or lightly coloured foods in the first couple of days after having their teeth whitened. From a more long-term perspective, it may be difficult to avoid foods and drinks that stain teeth altogether. Instead, try rinsing your mouth out with water after eating or drinking the above, removing excess residue from your teeth.
For a more in-depth look at how to keep your teeth bright and white after whitening, read our blog post: What can I eat after teeth whitening?
Visit Your Dentist
For a more personalised take on how to maintain clean teeth after whitening, visit your dentist. They can offer tailored advice regarding how to keep your teeth looking and feeling their best, whilst also ensuring your dental health stays on top form.
We recommend you visit your dentist at least every six months as a minimum, so they can spot any issues as they arise and polish as necessary. If you have any specific questions about tooth whitening and which type of treatment may work best for you, ask your dentist! They are the professionals, and know how to give bespoke advice that works. Don't fall for those 'too good to be true' online shopping products that are not recommended by professionals – these can often do more harm than good.
Your dentist can also recommend specific products to incorporate as part of your dental hygiene routine. The best products to use at home will often depend on the results you're looking for and whether your teeth are sensitive, as well as how much time you have spare to commit to the upkeep of your smile.
Touch-up Treatments
We all want the benefits of teeth whitening to last, as brighter teeth can leave us feeling more confident. However, it is natural for our teeth to become slightly discoloured over time. This happens for a range of reasons:
Aging can cause 'yellowing' teeth, as our teeth become thinner and the yellow-coloured dentin underneath the enamel is more exposed. This is where maintaining whiter teeth becomes more difficult, and alternatives may be suggested such as composite bonding or porcelain veneers.

Certain foods and beverages, as listed above, can contribute to the discolouration of teeth.
Touch-up whitening treatments are a popular way to maintain the sparkling results of your initial treatment over time. We can offer in-surgery, at-home, or a combination of options, so you can arrange your tooth whitening schedule in a way that works around you.
Professional Teeth Whitening with Ringway Dental
At Ringway Dental, our professional teeth whitening treatments combine the latest in tooth whitening technology with a variety of options for your convenience. Our Zoom, Boutique, and Enlighten teeth whitening treatments offer something for everyone:
Boutique – £250 – Our specialist at-home treatment, complete with bespoke whitening trays and professional-grade gels.

Zoom – £450 – Efficient, in-surgery treatment based within our pristine treatment rooms.

Enlighten – £550 – A longer-term combination of at-home and in-surgery treatments, for use over 14 days.
We are always happy to help guide our clients towards the correct whitening treatment for them, answering any questions you may have along the way! If you'd like a free online consultation with one of our Smile Advisors, book your slot now for a 20-minute video call. You can also book to see us directly in the surgery for an initial consultation by calling 0161 437 2029.
Related Posts