What to Know Before Getting Implant Retained Dentures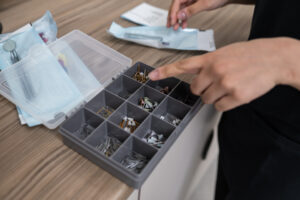 Implant retained dentures are used to replace missing teeth. They're also used after a dental extraction, where the tooth has been removed due to irreparable damage or tooth decay.
If you do have a missing tooth, it's important you have it replaced as soon as you can. While it may not seem like much of a big problem, having a gap in your teeth can gradually shift the other teeth out of alignment as they close in to fill the space. This can lead to a whole array of other problems. Alternatively, we often see patients where the gap is not filled in but there is damage to the exposed teeth on either side of the missing area. This is because losing a tooth leaves more exposure to bacteria, as certain areas can be harder to clean around.
Implant retained dentures are one of the most effective ways to address a missing tooth. As a process, having your implant fitted and fused can take quite a while. It's perfectly normal to have plenty of questions about the process before you decide to go ahead with an initial consultation appointment. Our guide on what to know before getting implant retained dentures should help.
What Are Implant Retained Dentures?
Implant retained dentures involve fitting implants within the jawbone, then waiting for the implants to fuse with the surrounding bone. The implant healing process takes the longest, with patients having to wait 3 months for their jawbone to fully accept the implants. This is an important part of the process, as the implants essentially plays the role of the 'roots' of your replacement teeth, which is what makes implant retained dentures so stable and long-lasting.
When you go to have your implants placed, your dentist will ensure you are as relaxed as possible during the procedure. Having implants fitted is a more invasive treatment, so making sure you are comfortable and well becomes a priority throughout. The implant procedure involves making an incision into the gum so your titanium implants can be inserted into the jawbone.
While you wait for the implants to heal, you can be offered a temporary denture to wear. Once your implants are fully fused and your dentist has checked they have all healed, you will be able to have your denture fitted.
How Do They Compare to Other Dentures?
There are still a variety of other implants and dentures you can opt for if you have missing teeth. Implant retained dentures, however, are one of the most modern choices for those seeking comfortable and effective tooth replacement options.
Implant retained dentures can be beneficial in comparison with other types of dentures for a number of reasons. As they are fixed to the titanium screw implant that acts almost like the root of the tooth, implant retained dentures are both secure and feel natural in the mouth. This means they can be more comfortable than other alternative dentures, and they're much less likely to move or become loose – improving longevity. They're much easier to eat with than other dentures can be, as well as being easier to maintain on a daily basis.
Although they're highly secure, implant retained dentures can still be removed and cleaned; allowing you to stay on top of your oral care while ensuring your smile looks its best.
To determine which type of dentures would work best for you, it's important to have a consultation with your dentist.
Do They Need Any Special Care?
To make the most of your implant retained dentures, you should follow the advice of your dentist. Here are some of the tips most dentists would offer when it comes to taking care of your implant retained dentures:
Use a non-abrasive toothpaste – your dentist can likely recommend one
Remove your denture each day to brush twice. Remember that plaque can form on dentures just as easily as it can on your natural teeth
Take your denture out to sleep. This also gives your gum(s) 'breathing space' overnight
Your denture can be soaked in water using a special cleaning tablet
Brush your denture gently, and be sure to clean every surface
Make sure you attend all dental appointments. It's recommended you attend every 6 months or more to ensure your dentures are checked regularly.
How Long Do Implant Retained Dentures Last?
Implant retained dentures are favoured by many patients due to how long they last, making them a sound investment in your oral health. With the correct care and regular maintenance, the implant part can last you a lifetime. The denture itself may have to be replaced every 10 – 15 years. This is because acrylic can wear down over time, though this is entirely natural.
Dentures also feature rubber O-rings that help secure the denture in place. These can last anywhere between 6 to 24 months, but it's important you have them replaced if they wear down.
You'll likely have to schedule maintenance and replacement appointments with your dentist to ensure your implant and denture remains in top condition.
Implant Retained Dentures at Ringway Dental
At Ringway Dental, we offer a range of denture options including implant retained dentures. To help decide which will work best for you, we'd recommend booking a consultation with our experts in our Cheadle surgery. Serving areas around Greater Manchester including Cheadle Hulme, Cheadle, and Stockport, our inviting private practice offers high-tech dental care within a comfortable and welcoming setting.
To find out more about the implant retained denture procedure or to book your initial consultation with a dentist, you can call our team at Ringway Dental on 0161 437 2029.
Related Posts