8 Tips to Improve Your Smile
Many of us aren't happy with our smiles. This is a widespread concern for UK adults, as studies report how teeth are considered the third biggest stressor – after finances and relationships!
These anxieties about our teeth can be caused by a range of issues. From staining and discolouration, to misaligned teeth, or needing a chipped tooth repair – many UK adults are unhappy with the appearance of their teeth. This leads to additional stress about our looks, particularly when we're asked to smile for a photo.
If you're lacking confidence with your smile, you've probably wondered how you can change it. Even small steps can increase your everyday confidence, refining the appearance of your teeth and boosting self-esteem.
While some aesthetic dental concerns will require a trip to a cosmetic dentist, there are things you can do to improve your smile at home. Many tips on improving the visual aspect of your smile will have the added bonus of enhancing your dental health, too. Read on for 8 tips on how to improve your smile – and your health.
Why Our Smiles Matter
Our teeth aren't just there to look good. They do serve important functions; allowing us to eat, drink, and communicate properly. Worrying about our teeth isn't just a vanity issue. Disliking your smile can impact almost every aspect of your life. Here are a few of the reasons it's important to feel confident with your teeth:
· Mental Health
Feeling uncomfortable with our teeth can have a negative impact on our mental health. People see our teeth every day… When we're laughing, having a conversation, or eating lunch. The constant distress in trying to hide such a central aspect of our appearance can be draining. Embarrassment about how teeth look can cause people to withdraw from social activities, worsening any feelings of anxiety and depression.
· Stereotypes & Misconceptions
People with stained, crooked, or cracked teeth are often labelled with negative misconceptions and stereotypes. This can happen even when the reasons behind our unappealing smiles are beyond our control. In comparison, straight, white teeth are almost like a status symbol – or a signifier of class. Perfect teeth relay the message that you can afford quality dental healthcare and treatments, and that you care about your appearance.
· Disadvantages
In some cases, people feel they're at a disadvantage due to how their teeth look. Many of these disadvantages are the result of the stereotypes and judgements we mentioned above.
In terms of career-related disadvantages, employers look for well-presented employees that will represent their company in a positive way. Since people with 'bad teeth' are so commonly judged in a negative light, they may be less likely to secure jobs due to their appearance. In romantic situations, attraction matters. Stained and misaligned teeth are often deemed less attractive, so having these issues can impact your personal life too.
As we've mentioned, not liking your smile can lead to further issues. These issues go beyond concerns about your looks alone. The social and personal impact of not feeling comfortable with your smile can have a knock-on effect in other areas of your life. Here are some ways you can improve your teeth (and your confidence)!
Stop Smoking
In a UK study into smoking and tooth discolouration, 28% of smokers stated they had 'moderate or severe' staining on their teeth. 30% said they were dissatisfied with the colour of their teeth, compared to just 15% of non-smokers reporting the same.
Smoking stains our teeth due to the nicotine in cigarettes. If you stop or cut down on smoking, the stains are unfortunately permanent. It's best to quit while you can and reduce any further impact that smoking can have on your teeth. To remedy the staining that's already happened, ask your dentist about teeth whitening options.
Replace Coffee, Juice & Red Wine with Water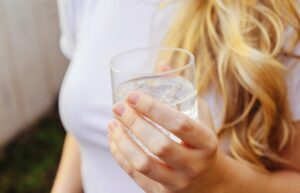 Again, stained teeth can make us feel disappointed with the way our smiles look. There are certain foods and drinks that contain staining ingredients or are darkly pigmented you should avoid to limit further staining on your teeth.
Tea & Coffee
Red Wine
Curry & Spices
Vinegar & Soy Sauce
Fruit Juices
Try alternatives to the above, like switching out a cup of tea with green tea instead. You can try drinking from a straw. Opt for lighter soy sauces, and switch up colourful fruit juices for lighter options like orange juice, water, and mango or pineapple juice.
Many of these adjustments will improve your health, not just your teeth. For example, green tea is a great antioxidant with a lower caffeine content. Light soy sauces contain less sodium.
Practice In the Mirror
It's not just teeth that can reduce your confidence in smiling. Sometimes, it's because we don't like the way our facial expressions appear when smiling. If we have misaligned teeth, this can also alter the way our face looks.
To improve your confidence, spend 5 minutes each day practicing your smile in the mirror. You can then recreate your ideal expression next time you're told to smile for the camera. Whether you focus on limiting wrinkles, or smiling without showing the teeth you dislike – becoming more familiar with your appearance can boost self-confidence.
Keep Up with Dental Check Ups
Dentists sometimes recommend that you attend dental check-up appointments every six months. Some will offer less frequent checks if your teeth are really healthy. However often your dentist wants to see you, you should go.
Keeping a consistent dental check-up routine can help your dentist monitor potential issues as they happen. Since oral health problems can affect the appearance of your teeth, keeping teeth healthy by visiting the dentist will improve your smile. You never know what's going on in your mouth until it's examined! You might need a chipped tooth repair you never knew about, or you might need a filling. They may also offer 6-monthly cleans to refresh the teeth of any plaque. It's always best to stick to your dental appointments.
Ask Your Cosmetic Dentist About a Smile Makeover
If you are feeling uncomfortable with your smile due to the way your teeth look, you can have them fixed! Some stains are irreversible, while any structural issues like broken, cracked, and misaligned teeth can't be solved without the help of a dental professional.
Ask your cosmetic dentist about a Smile Makeover. At Ringway Dental, our Manchester Smile Makeover team can create a bespoke treatment plan as they help to rectify any visual concerns you have with your teeth. These plans often involve a couple of carefully selected treatments such as whitening, composite bonding, or veneers. Combined, these procedures help perfect your smile in a way that means you can go about your day with confidence.
Use Interdental Brushes & Floss Daily
1 in 3 UK adults have never flossed! While it's regularly recommended, there just doesn't seem to be as much of a focus on flossing within the UK. Flossing should be a daily habit. It's recommended by dental and healthcare professionals across the world – so why don't we do it? Flossing or using interdental brushes isn't the most pleasant task, but it can improve the appearance of our teeth.
Flossing helps remove lodged food from the teeth, while also reducing the potential for plaque to build up. The NHS has some great advice on how and why we should floss.
Note that some studies have found evidence that interdental brushes are more effective than floss. They found a positive significant difference in plaque reduction when comparing interdental brushes with floss. You might prefer to stick with interdental brushes, as they're often easier to use too.
Reduce Plaque – Cut Down on Sugar
2 in 3 adults have visible plaque on their teeth. Plaque itself is not really visible, as it's a colourless film that covers the mouth in between brushing and flossing. However, when it's left on teeth for too long, plaque can develop into a material called 'tartar'. This is a hard substance that forms when plaque calcifies, and it is a visible oral hygiene issue. Tartar can turn brown or black, making teeth look like they need a good clean around the gum line.
Tartar can't be removed at home, so you'll have to visit a dentist to have the tartar removed professionally. It can also cause oral health issues including inflamed gums or bleeding, and can be a contributing factor to gum disease. Gum disease eventually leads to tooth loss, which will cause even further issues with your smile!
To make your teeth look better, take healthier actions that can reduce the amount of plaque – which can lead to tartar. Plaque can build up as the result of eating too many sugary snacks or carbohydrates. Be mindful about what you eat and drink. Reducing the amount of sugar you consume can help reduce the formation of plaque on your teeth. It will also limit your chance of developing tooth cavities and tooth decay.
Straighten Your Teeth
If you have crooked teeth, you won't be able to find any magic fixes at home. While there are plenty of 'over-the-counter' straightening products or kits you can buy online, they'll never have the same impact that can be achieved with a dentist.
You might first be considering visiting an orthodontist to fix your teeth. However, with cosmetic dentistry, there are many procedures that can alter your teeth so they appear straight and well-aligned. Your own private dentist will likely offer subtle orthodontic treatments to choose from. Veneers, hidden braces, and bonding treatments can straighten your teeth – improving your smile at the same time.
Manchester Smile Makeovers with Ringway Dental
If you've tried the tips above and still don't feel happy with your smile, it might be time to consider cosmetic treatments. At Ringway Dental, we thrive on boosting our patients' confidence each day. We think visiting the dentist should be an uplifting experience – especially when it comes to cosmetic dental work.
Our Manchester Smile Makeovers have worked wonders in transforming smiles over the years. Increasing confidence in many of aspects of life, our expert cosmetic dental teams work closely with patients to determine their expectations and set reasonable goals regarding how their teeth will turn out.
Our dedicated team are committed to our patients every step of the way, whether they want to discuss alternative treatments, or if they have any last minute questions. We're always just a phone call away.
To enquire about our Smile Makeovers, or to discuss alternative treatments that can improve your smile, contact us today. You can call our team on 0161 437 2029 or get in touch via our online contact form. We look forward to improving your smile!
Related Posts